Plinth convector
Convector DV
Forced convection

Plinth convector with metal body

2-pipe heat exchanger

Motor DC 24

Body finish Black, frame and grille Satin

Carrera DV convector for space heating with a small installation area
The Carrera DV plinth convector is a specially manufactured heater for installation in window sills, steps, and wardrobes.
The DV convector is equipped with a metal casing made of 1mm thick, high-quality steel and painted with a wear-resistant powder coating. The convector case is closed with a decorative grille made of anodized aluminum (Satin color).
Basement convectors are not noticeable in the interior and are ideal for heating small rooms with a small area for installing heating devices.
Characteristics of the basement convector housing with two-pipe heat exchanger and fan
The DV casing is equipped with a two-pipe heat exchanger using a copper pipe with a diameter of 22 mm and a wall thickness of 1 mm. All heat exchangers are manufactured and pass absolute control at the factory. It consists of high-quality components (copper and aluminum) from European manufacturers. The compact and thoughtful design allows you to combine in one housing an energy-efficient motor with a 24-volt supply and smooth regulation, a two-pipe heat exchanger with a system of silent fasteners, guides for the heat exchanger blowing strategies, and assemble everything into a single system that becomes unified in the housing and allows you to use the heat exchanger power as efficiently as possible with a minimum noise level. All DV convectors are equipped with high-quality Taiwan-made motors with microprocessor control and the possibility of smooth adjustment of the fan speed range from 0 to 100%. All characteristics of the devices have passed laboratory tests and received the appropriate protocols regarding noise level and thermal performance. And the operating voltage of 24V gives confidence in the safety of use in a domestic environment. The design of the heat exchanger allows you to provide heat to a large area of ​​the premises.
Characteristics Convector DV
Convector model:
DV 80
DV 80 with 1 heat exchanger and fan

Width

275

mm

Height

80

mm

Length

1000-2000mm in 250 mm increments

Grille

aluminum (longitudinal)

Heat carrier connection

G 1/2″, right side

Optimum working temperature

40 – 90°c

Max. working temperature

105°c

Working pressure

10/16

bar

Body and heat exchanger guarantee

10

years

Electrical part guarantee

2

years
Download documents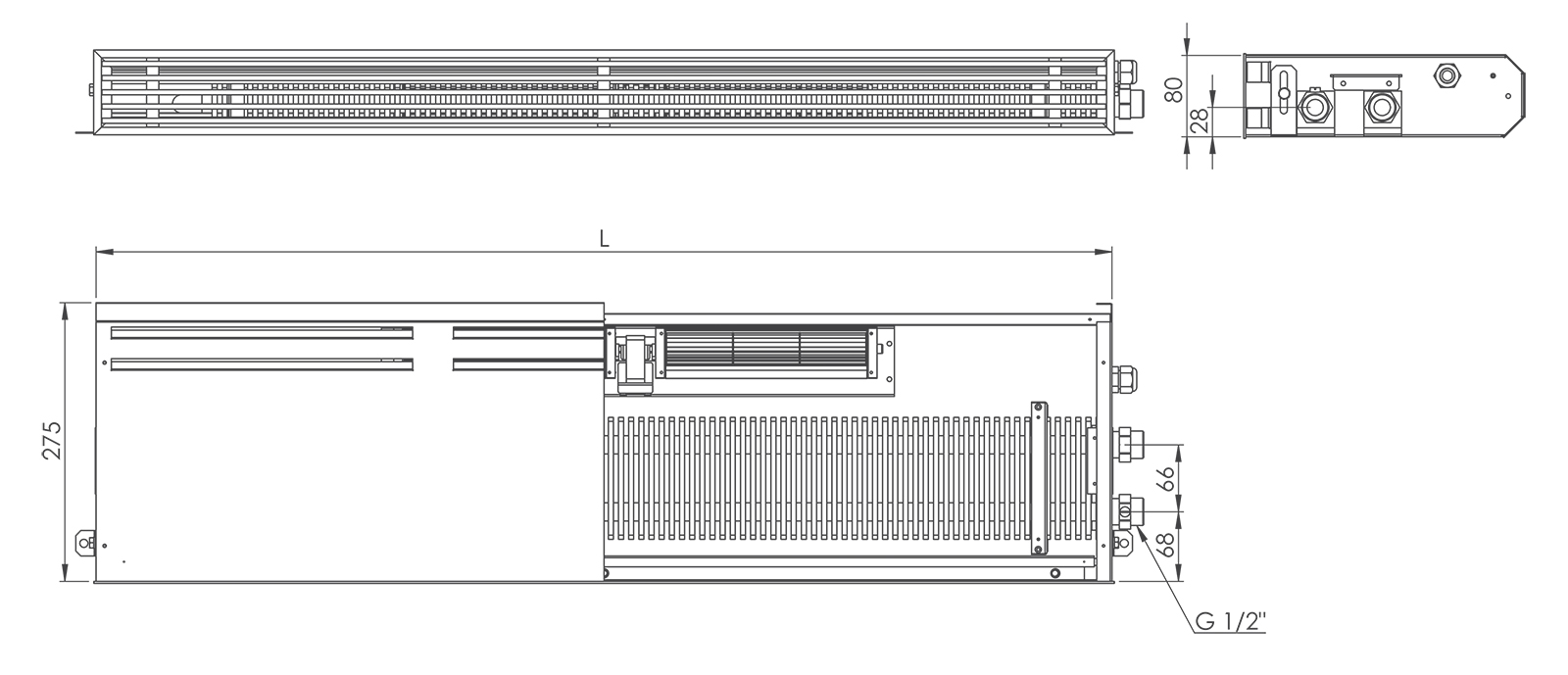 DV 105
DV 105 with 1 heat exchanger and fan

Width

275мм

Height

105мм

Length

1000-2000mm in 250 mm increments

Grille

aluminum (longitudinal)

Heat carrier connection

G 1/2″, right side

Optimum working temperature

40 – 90°c

Max. working temperature

105°c

Working pressure

10/16

bar

Body and heat exchanger guarantee

10

years

Electrical part guarantee

2

years
Download documents