Electric convectors
Convector SE
Natural and forced convection

Standard Width Enclosure

Electric heat exchanger

Grille set - Set S

DC 24 motor

Body design - Black, Inox, Alum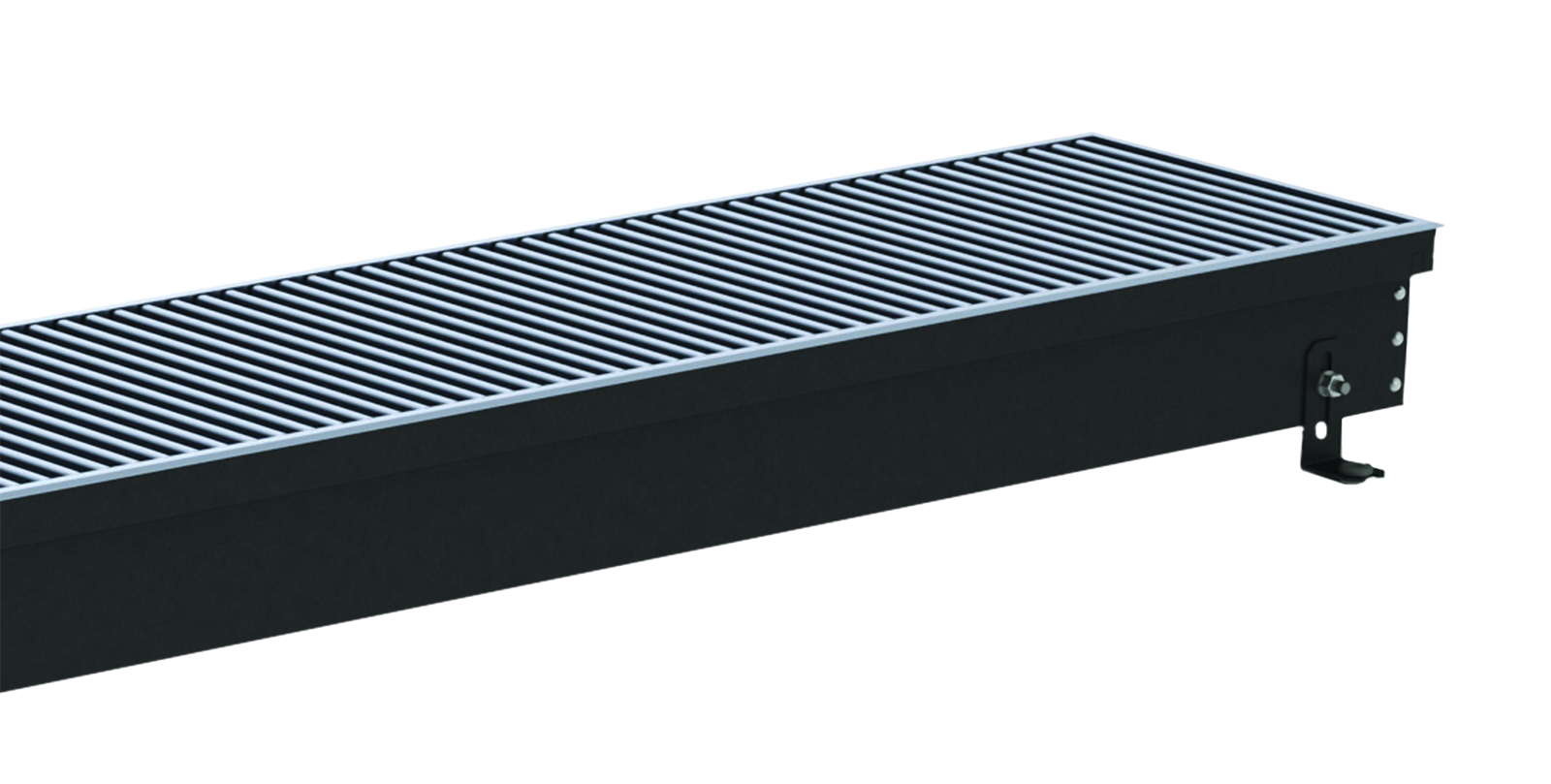 Features of the Carrera Electro floor convector body
Carrera Electro is a ready-to-install heater designed for heating rooms with stained-glass windows without connecting them to a centralized heating system.
As standard, the convector body parts are made of high-quality sheet steel (Inox stainless steel on request). This model can manufacture a case from stainless steel and a rigid aluminum case with a wall thickness of 2 mm (and paint in any color from the RAL palette). The components are painted with a wear-resistant black powder coating, making all the convector components under the grille invisible. The housing provides a connection to the electricity system, and the connection hole is protected to prevent the solution from entering when pouring the convector. Adjusting bolts are installed at the ends, with the possibility of height adjustment within 40 mm, for the convenience of setting the device during installation.
Electric heat exchanger
For SE 90 models, the heat exchanger uses 220V electric heating elements embedded in all aluminum plates for more efficient heat exchange. Each heat exchanger undergoes testing and final control at the factory—high-performance heating in combination with an electric floor heating system as a single heating system. Electro works with an air temperature control system through a system of thermostats from a 220V network and has several options for hourly regulation with day and night settings.
Modular fan DC 24 with control system
The company Carrera Ukraine has developed a more productive electric convector model – SEV, adding to the line of Carrera ventilation convectors. The Carrera electric heat exchanger is installed in the housing along with the fan system and comes in one modular unit for maximum productivity. Also, SEV convectors are equipped with energy-efficient motors powered by 24 volts with the possibility of smooth adjustment of the operating range, which makes it possible to efficiently and silently heat rooms and create comfort with maximum convenience and ease of control using Carrera FT thermostats. All characteristics of the devices have passed laboratory tests and received the appropriate protocols regarding noise level and thermal performance. And the operating voltage of 24V gives confidence in the safety of use in a domestic environment.
No noise and simple design
The SEV models are silent and easy to install and operate due to anti-vibration inserts in the cassette mounts of the electric heat exchanger and the convector body. Convenient fixings of the heat exchanger make it easy to remove and service the convector.
Model S has a removable frame covering the joint between the convector and the floor and a grille of your choice. The Carrera grille and kit collection offers various grille types and paint options to suit your interior.
Characteristics Convector SE
Convector model:
SE
SE height 90mm with 1 heat exchanger

Width

230

mm

Length

1250-3000mm in 250mm steps

Height

90

mm

Converter body options

Alum, Black, Inox

Grille – set S (ZN, ZL)

aluminum (longitudinal), stone

Connection of the heat carrier (heating element)

220 V

Working temperature

80-100°c

Body guarantee

10

years

Electrical part guarantee

1

year
Download documents
SEV
SEV height 90mm with 1 heat exchanger and fan

Width

250

mm

Length

1250-3000mm in 250mm steps

Height

90

mm

Converter body options

Alum, Black, Inox

Grille – set S (ZN, ZL)

aluminum (longitudinal), stone

Connection of the heat carrier (heating element)

220 V

Working temperature

80-100°c

Body guarantee

10

years

Electrical part guarantee

1

year
Download documents