Internal floor convectors
Convector S 90
Natural convection

Body with standard width

2-pipe heat exchanger

Grille set - Set S

Body design - Black, Inox, Alum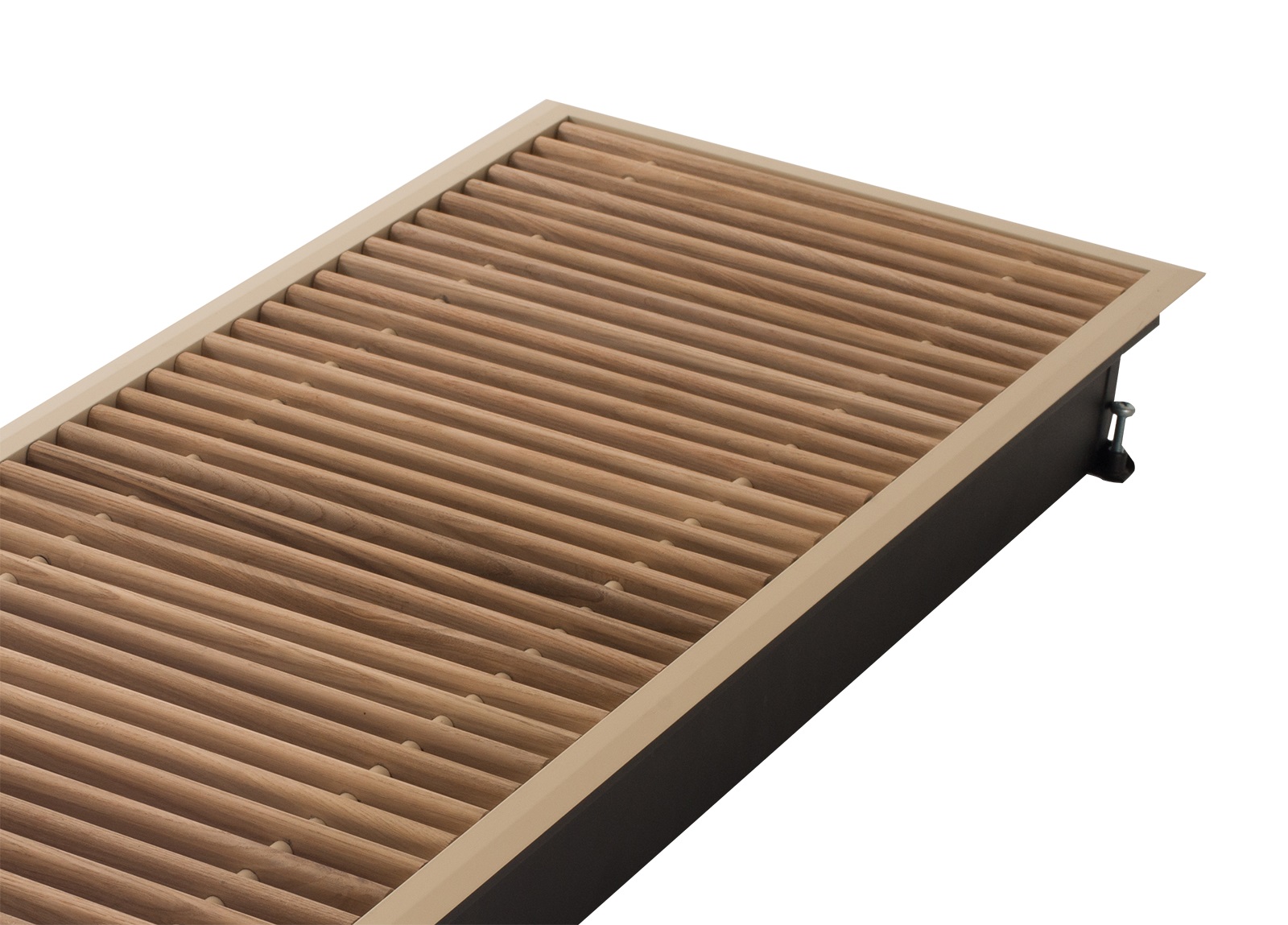 The case features in S/C models with 90mm case height
The S/C 90 convector models are the most popular in the Carrera range. This model can manufacture a case from stainless steel and rigid aluminum with a wall thickness of 2mm. The body of the convectors in the S/C 90 series has a height of 90mm. In the standard version, the convector body parts are made of high-quality sheet steel (Inox from stainless steel on request). The components are painted with a wear-resistant black powder coating, which makes all the convector components invisible under the grilles. It is also possible to manufacture the convector body from anodized aluminum 2 mm thick (and paint it in any color from the RAL palette). The housing provides a connection to the heating system from 3 sides, and the free holes are closed with plastic-sealed plugs to prevent the solution from entering when pouring the convector. Adjusting bolts are installed at the ends, with the possibility of height adjustment within 40 mm, for the convenience of setting the device during installation.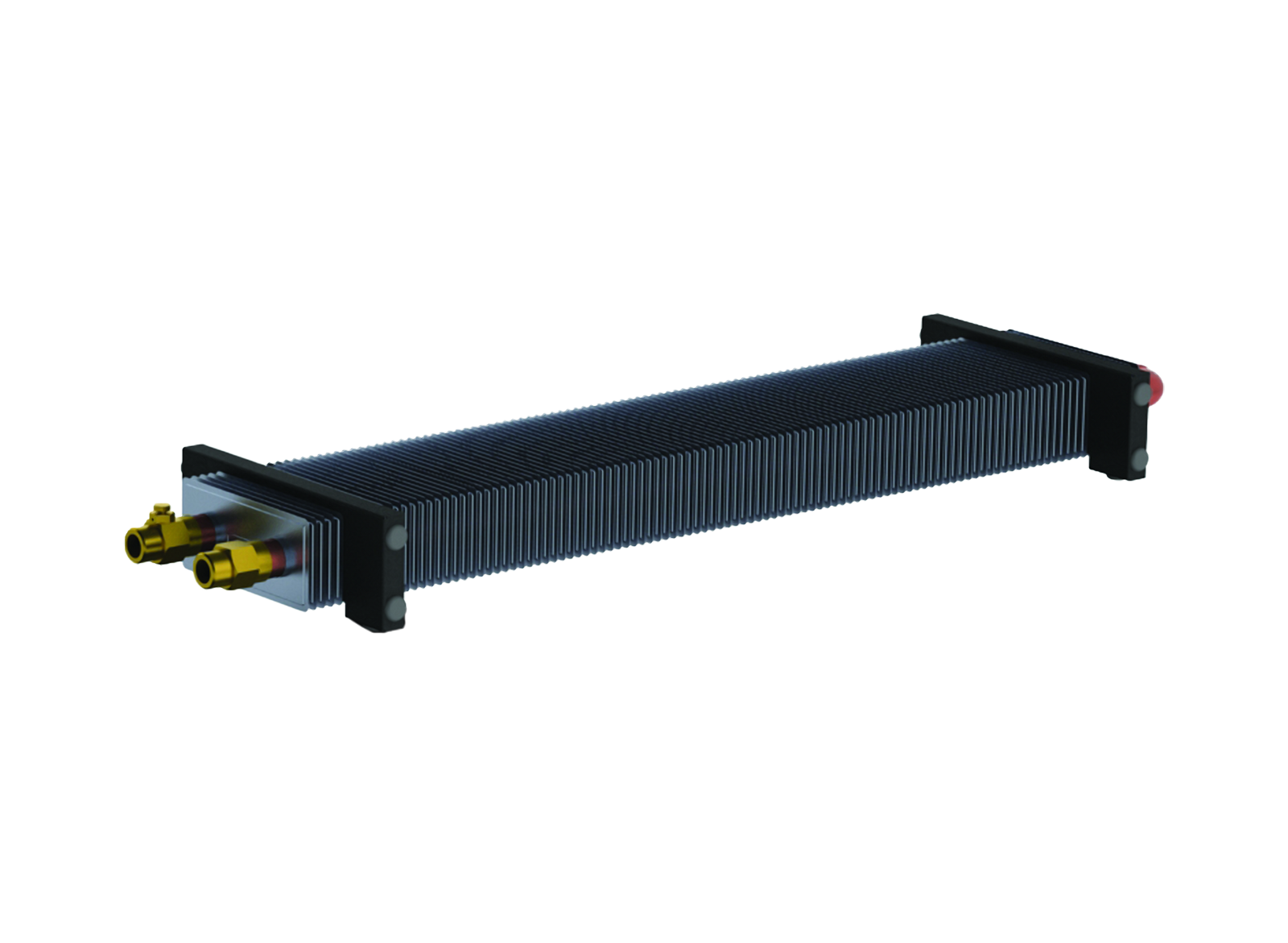 2-pipe copper-aluminum heat exchanger
In the S/C 90 Carrera series, 2-pipe heat exchangers of our manufacturer are installed. Each heat exchanger undergoes testing and final control at the factory. It consists of high-quality components (copper and aluminum) from European manufacturers. The compact and thoughtful design of the heat exchanger will provide heat to a relatively large area of ​​the premises. It also has the function of stiffening ribs due to the cassette design of the fasteners and supports of the heat exchanger, and it is easy to get in case of need for cleaning or maintenance.
No noise and simple design
Thanks to anti-vibration inserts in the cassette mounts of the heat exchanger and the convector body, the S/C models are silent and easy to install and operate. Convenient fixings of the heat exchanger make it easy to remove and service the convector. The S/C series is equipped with 1-2 or more heat exchangers, which allows you to effectively increase the heat output for heating any premises.
Advanced technology and design in the heating system
Model S is equipped with a removable frame that closes the joint between the convector and the floor and a grille to choose from. Model C is fitted with a grille without the possibility of further installation of the frame. The Carrera grilles and kit collection offers various grating types and paint options to suit your interior.
Characteristics Convector S 90
Convector model:
S (C) 90
S/C height 90mm with 1 heat exchanger

Width

230

mm

Length

1000-3000 mm in 250 mm increments

Convector housing options

Alum, Black, Inox

Equipment height adjustment range

0-40

mm

Grille – set S (ZN, ZL)

transverse, longitudinal (aluminum), wooden, stone

Heating medium connection

G 1/2″, left side

Optimum working temperature

40 – 90°c

Max. working temperature

105°c

Operating pressure

10/16

bar

Body and heat exchanger guarantee

10

years

Electrical part guarantee

2

years
Download documents
S2 (C2) 90
S/C height 90mm with 2 heat exchangers

Width

380

mm

Length

1000-3000 mm in 250 mm increments

Convector housing options

Alum, Black, Inox

Equipment height adjustment range

0-40

mm

Grille – set S (ZN, ZL)

transverse, longitudinal (aluminum), wooden

Heating medium connection

G 1/2″, left side

Optimum working temperature

40 – 90°c

Max. working temperature

105°c

Operating pressure

10/16

bar

Body and heat exchanger guarantee

10

years

Electrical part guarantee

2

years
Download documents