Skirting convectors
Convector BR
Natural convection

Skirting convector with a metal body

2-pipe heat exchanger

The enclosure version is White, painted in RAL color
BR Carrera convector for uniform and fast heat distribution
Skirting convectors Carrera BR are affordable and practical heating devices. They are often used in rooms where heating is supposed to be around the perimeter, which ensures uniform and rapid distribution of heat and is also indispensable for the reconstruction of the heating system. It is installed as the primary heat source or in combination with other heating devices, depending on the purpose of the room and the required thermal regime.
The body of the skirting convector is made of high-quality steel 1 mm thick and is painted with a wear-resistant powder coating (standard White), and the body can be painted in the RAL palette.
Characteristics of the casing of the skirting convector with a two-pipe heat exchanger
In the body of the skirting convector BR 18, a 1-pipe heat exchanger is installed, and in BR 21, a 2-pipe heat exchanger is installed using a copper pipe with a diameter of 22 mm and a wall thickness of 1 mm. All heat exchangers are manufactured and pass absolute control at the factory. It consists of high-quality components (copper and aluminum) from European manufacturers. The compact and thoughtful design of the heat exchanger will allow you to quickly provide heat to the room around the perimeter.
Connection features and convenient control
The simple design of the Carrera BR casing makes it easy to assemble and install convectors of the required configuration with the help of additional accessories.
To regulate the temperature in the room, thermostatic taps and thermostatic heads from European manufacturers are used (available for versions with the +T index).
Characteristics Convector BR
Convector model:
BR 18
BR 18 with one single-pipe heat exchanger

Width

60

mm

Height

180

mm

Length

1000-2500 mm in 250 mm increments

Case painting options (standard)

White RAL 9016, Beige, Brown, Satin

Grille

aluminum (longitudinal)

Heating medium connection

G 1/2″, the left side

Optimum working temperature

40 – 90°c

Max. working temperature

105°c

Operating pressure

10/16

bar

Body and heat exchanger guarantee

10

years

Electrical part guarantee

2

years
Download documents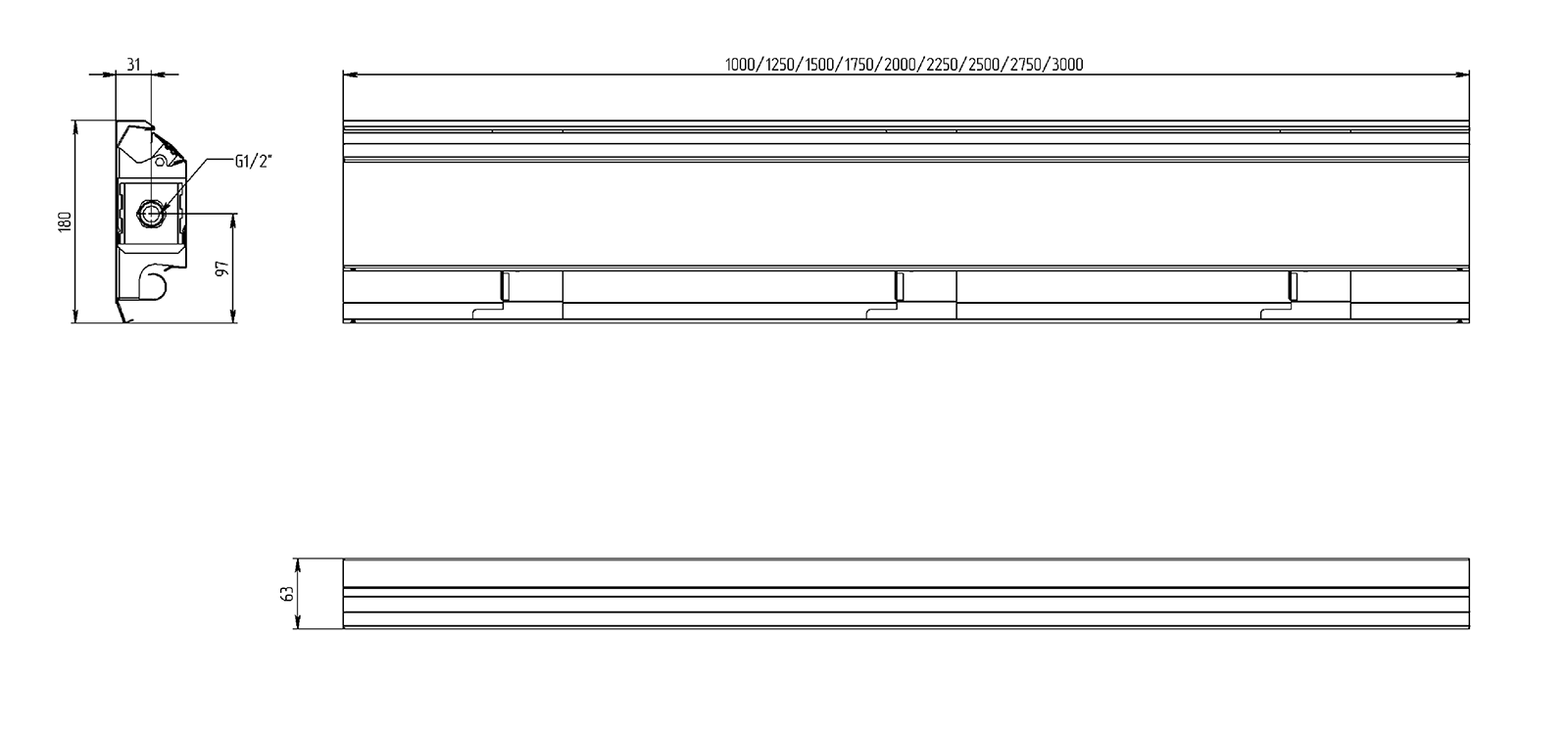 BR 21
BR 21 with one two-pipe heat exchanger

Width

60

mm

Height

210

mm

Length

1000-2500 mm in 250 mm increments

Case painting options (standard)

White RAL 9016, Beige, Brown, Satin

Grille

aluminum (longitudinal)

Heating medium connection

G 1/2″, the left side

Optimum working temperature

40 – 90°c

Max. working temperature

105°c

Operating pressure

10/16

bar

Body and heat exchanger guarantee

10

years

Electrical part guarantee

2

years
Download documents