Internal floor convectors
Convector 4SV
Forced convection

Enclosure with a minimum width

4-pipe heat exchanger

DC 24 motor

Grille set - Set S

Housing version - Black
The case features a minimum width
The case of fan convectors in the 4SV series has a minimum width with all convector components under the grilles. The case provides for connection to the heating system from 3 sides, and it is also installed among the entire model range of Carrera convectors with forced convection, which is 200mm. All parts of the convector body are made of high-quality sheet steel (stainless steel is available on request) and painted with a wear-resistant black powder coating, which makes adjusting bolts easy adjustment when mounting in height. Carrera 4SV is equipped with energy-efficient motors with the possibility of smooth adjustment of the operating range, which makes it possible to efficiently and silently heat rooms and create comfort with maximum convenience and ease of control using Carrera FT thermostats.
4-pipe copper-aluminum heat exchanger
In the 4S Carrera series, 4-pipe heat exchangers of our manufacturer are installed and have passed the final control at the factory. It consists of high-quality components (copper and aluminum) from European manufacturers. The compact and thoughtful design of the heat exchanger will provide heat to a relatively large area of ​​the premises with a minimum width of the convector. It also has the function of stiffening ribs due to the cassette design of the heat exchanger mounts and supports and is easily removed in case of cleaning or maintenance. The Carrera heat exchanger is installed in the casing with the fan system and supplied in one modular design.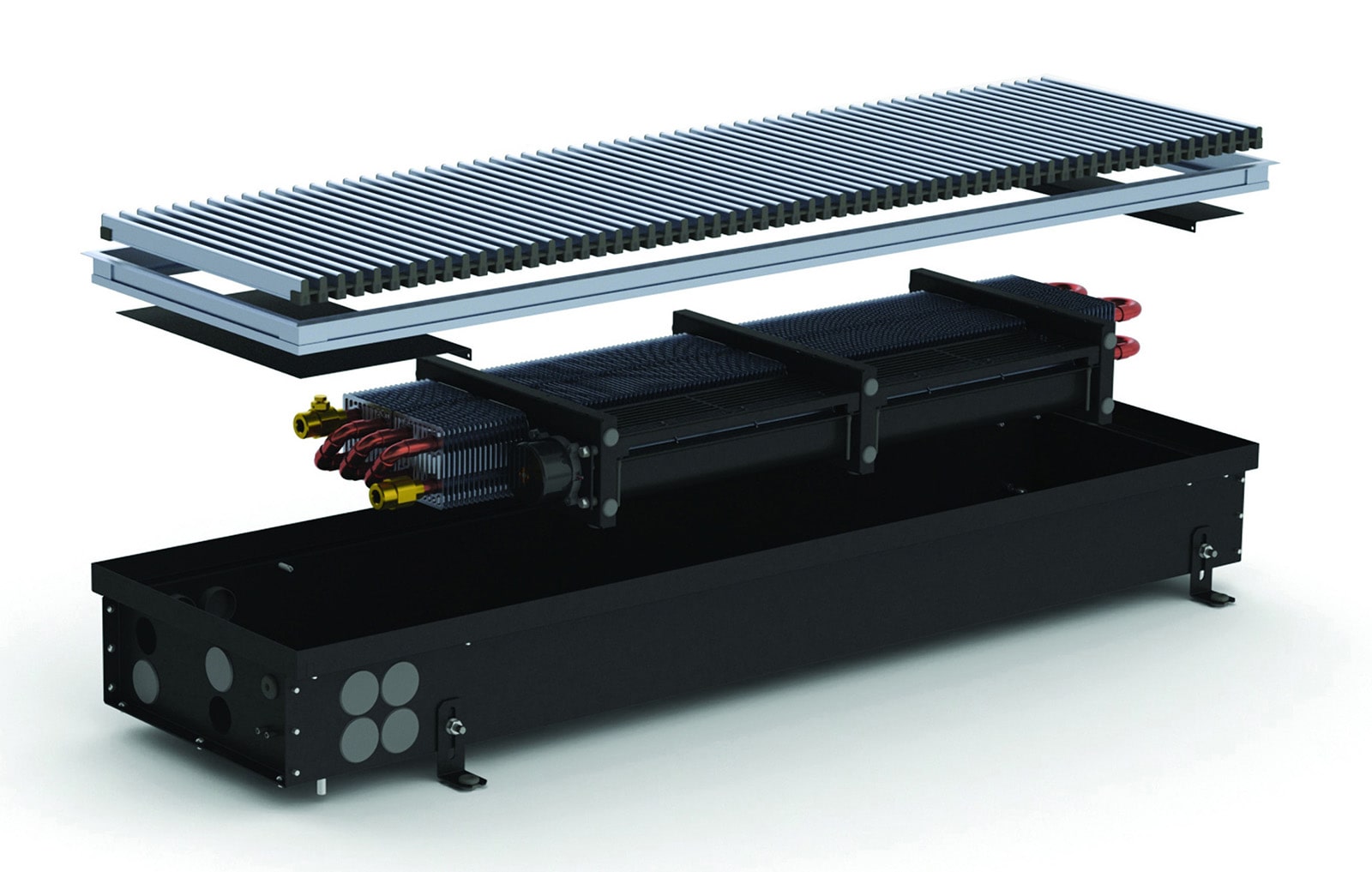 Modular fan with DC 24 control system
The Carrera Ukraine company has developed and patented a block system of fan convectors. The unique design allows you to combine in one housing an energy-efficient motor with a 24-volt supply and smooth regulation, a heat exchanger with a silent mounting system, guides for the heat exchanger blowing strategies, and assemble everything into a single system that unifies into the housing and allows you to use the heat exchanger power as efficiently as possible with a minimum noise level. All 4SV and 4SV2 convectors are equipped with high-quality Taiwan-made motors with microprocessor control and the ability to smoothly adjust the fan speed range from 0 to 100%. All characteristics of the devices have passed laboratory tests and received the appropriate protocols regarding noise level and thermal performance. And the operating voltage of 24V gives confidence in the safety of use in a domestic environment.
Advanced technology and design in the heating system
Minimum noise level due to a single modular fan system, anti-vibration inserts in the heat exchanger mounts, rubberized stiffening ribs on the heat exchanger and fan platform, energy-efficient motor with a safe voltage and smooth regulation, own production, assembly, testing, warranty, quality control of manufacturing and electronic accounting of manufactured equipment – all this gives confidence in Carrera thermal technology.
The Carrera grille and kit collection offers various grating types and paint options to suit your interior.
Characteristics Convector 4SV
Convector model:
4SV
4S height 110mm with 1 heat exchanger

Width

200

mm

Length

1000-3000 mm in 250 mm increments

Convector housing options

Black

Equipment height adjustment range

0-40

mm

Grille – set S (ZN, ZL)

transverse, longitudinal (aluminum), wooden, stone

Heating medium connection

G 1/2″, left side

Optimum working temperature

40 – 90°c

Max. working temperature

105°c

Operating pressure

10/16

bar

Body and heat exchanger guarantee

10

years

Electrical part guarantee

2

years
Download documents
4SV2
4SV2 height 110mm with 2 heat exchangers

Width

280

mm

Length

1000-3000 mm in 250 mm increments

Convector housing options

Black

Equipment height adjustment range

0-40

mm

Grille – set S (ZN, ZL)

transverse, longitudinal (aluminum), wooden, stone

Heating medium connection

G 1/2″, left side

Optimum working temperature

40 – 90°c

Max. working temperature

105°c

Operating pressure

10/16

bar

Body and heat exchanger guarantee

10

years

Electrical part guarantee

2

years
Download documents